---
Keep doggies away from daily boring anxiety and Makes the dog and owner closer. 

Dogs can effectively improve their intelligence by using this toy.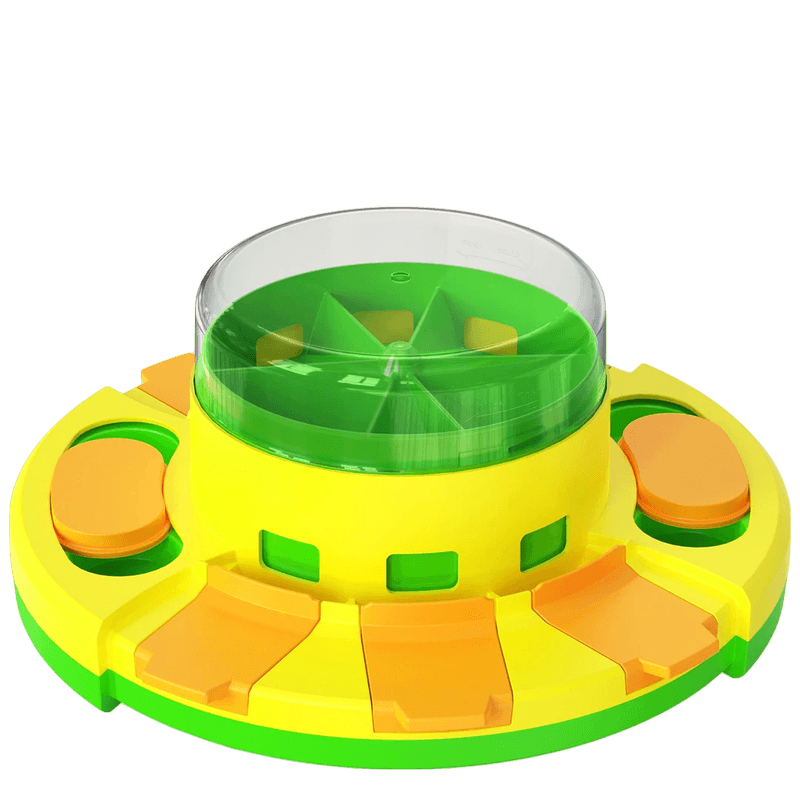 SLOW FEEDER
Skinmoz toy was designed as slow feeder to encourage pets to eat at a slower speed.
MENTAL EXERCISE GAME
Exercise your dog's brain with our toy.
EDUCING BOREDOM
Skinmoz pet puzzle toys can keep smart dogs and cats busy and more activities.
HAPPY PETS
Pets will increase exercise to maintain weight and health by playing the toy.
Mobile Food Leakage Turntable  

The top of the toy is designed with a food leakage turntable, There are several rotatable food leakage boxes on the track of the turntable. 
There are several rotatable food leakage boxes on the track of the turntable.
Dog food or snacks can be put into the hole on the top of the good leakage box, and the dog tums the granary box with claws. 
When the food leakage box passes through the food leakage hole on the track, the dog food or snacks will slide into the slow food plate in the middle of the toy, so that the dog can get food as a reward, in order to continue to attract the dog's interest in playing and improve the dog's intelligence at the same time.
The middle of the toy is designed with a slow food column. You can also directly put dog food or snacks into it and use it as a slow food dog bowl. Extending the dog's eating time, protect the dog's gastrointestinal health.
The Bottom Of The Toy Is Designed With 4 Non-Slip Gel Pad, Which Can Firmly Absorb The Toy On The Smooth Ground And Prevent The Dog From Knocking Over The Toy When Playing Or Eating, No Glue Marks Will Be Left On The Ground After The Toys Are Removed.
Sturdy And Durable, Easy To Use 
 This product is made of healthy and environmentally friendly PP.material, which is durable and can be used for dogs for a long time. It is easy to install food and clean, easy to use, and can be used directly without additional installation process, When the dog is used for the first time, the owner can drive dog's paw by hand to operate and repeat the action of sliding and leaking food boxes several times. The dropped dog food can attract the attention of the dog and learn to use this toy quickly.
SKINMOZ is highly committed to our customers, we stand behind our products and customers. 
Our ultimate goal is to satisfy each and every customer, from the moment you purchase our products throughout their lifetime.
Soft, Comfortable & Durable


 
SKINMOZ has over 64,000 positive reviews!
SKINMOZ tools were developed by real life professionals in construction. Our products are designed specifically to be easy to use for everyone. We produce pets products only with the highest quality of materials that are specifically vetted for durability and functionality.