---
With one click!
Our pet comb can easily handle loose hair, dirt, and tangles of pets, massage pet fur and promote blood circulation
 
Especially when the pet's hair is long and easy to tangle, using this comb will be more effective.
Suitable for hairy pets, such as dogs, cats, or rabbits.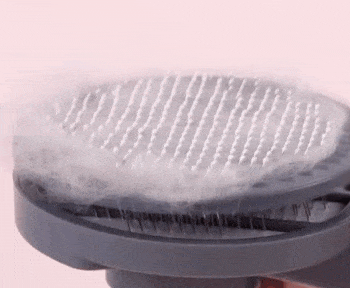 Save the floor, remove the floating hair of the pet.
Remove hair from the comb with one click.
Doesn't hurt the skin just like a massage.
 

For your Lovely Pet, Click " Buy Now " button.


Pets Grooming Brush: Pet Grooming Comb can handle pet's loose hair, dirt, and tangles easily,, massage pet's fur and enhance blood circulation.Especially when the pet's hair is long and easy to tangle, it will be more effective to use this grooming comb first. It is suitable for pets with hair, such as dogs, cats or rabbits, etc.
 

Safe & Comfortable Bristles: pet grooming comb is slightly curved, designed to go deep under the pet's fur for cleaning. The massage particles will not scratch the pet's skin, giving your pet a fun and pleasant grooming experience.
  

 

Self-Cleaning Needle Comb: After brushing off the hair with Pet Brush, press the cleaning button to remove the residual hair on the brush. Takes only about 5 seconds to clean due to the slicker brush's clever self-cleaning feature. This significantly saves the time and energy for grooming and cleaning.

 

Non-slip & Durable Pet brush handle : dog and cat grooming brush is designed with a comfortable and ergonomic handle with non-slip texture, which reduces the pressure on the hands. It can prevent hand and wrist strain no matter how long you brush your pet.



Pets Massage Brush : Pet Slicker Brush doing massage for your pet is good for preventing skin disease and increasing blood circulation.and leaves your pets coat soft and shiny! Your Pet will love being brushed ! Highly recommended by pet owners, vets, and professional groomers.


Package include :
Dimensions :