---
 PREMIUM QUALITY 

 FAST DELIVERY 3 - 5 BUSINESS DAYS FROM US
 BUY 2 OR MORE , GET 20% OFF ( NO CODE NEEDED )
ShockLamp™ USB Electric Shock Mosquito Swatter Lamp
PEST CONTROL ENGINEERED TO WORK | Electric Fly Swatter Helps You Easily Catch & Kill a Variety of Flying Insects for Safe, Dependable Indoor & Outdoor Relief | Perfect for Home, Kitchen, Bathroom, Garbage Area, Barn, Deck, Patio or Garden .
HEAVY-DUTY HANDHELD RACKET | Cordless Device Features an Extra-Large Surface Area & Comfort-Grip Handle for Maximum Efficiency | Just Swing in the Direction of Bugs & Watch Them Bite the Dust! Great for House Flies, Mosquitoes, Gnats, Etc.
HIGH VOLTAGE ELECTRIC GRID | Racquet Head Delivers Just Enough Output to Kill Bugs, But is Safe for Humans & Pets | Thick Stainless Steel, Aluminum -& Nickel-Plated Mesh Resists Warping & Contains Multiple Protective Layers to Reduce Risk of Shock .
EASY, ODORLESS FLY CATCHING | Inner Metal Grating Promptly Zaps Intruders—No More Harmful Chemicals, Sprays, Pesticides, Repellents or Glue Traps! | Handheld Device Requires Just 2 AA Batteries for Hours & Hours of Inexpensive Extermination .
YEAR-ROUND CONVENIENCE | Put a Stop to Pesky Home Invaders, Winter, Spring, Summer & Fall!| Excellent Solution for Backyard Barbecues & Deck Parties or Indoor Problems with Black Flies, Fruit Flies & More | 1-Year Limited Warranty Included
HIGHLY EFFECTIVE:


3000-volt powerful output to kill any flying insects simply with one touch.
KILL BUGS INSTANTLY:
a single swing of these large versions of our best-selling zapper with a powerful 3000-Volt grid eliminates flies, mosquitoes, and other flying insects. Get rid of your old fly swatter and take the modern approach!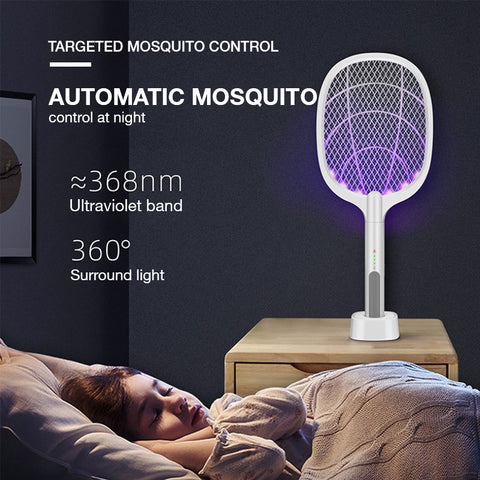 DOUBLE SWITCH, SAFE DESIGN, SAFE TO TOUCH:


Double switch, safe design When manually killing mosquitoes, you need to turn on the function switch, and then press and hold the strong power button to start the working mode, to avoid accidental electric shock to family members or children, and use more CafePress the activation button on your bug zapper racket, and an indicator light on. A triple-layer safety mesh protects you from electric shock.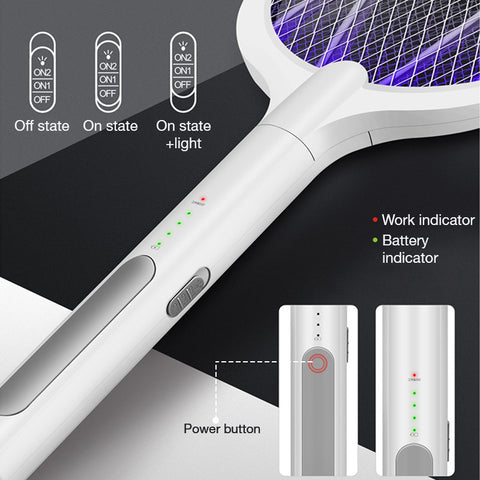 NO BUG SPRAY:


Bug spray repellent can be toxic and smell bad. with this bug zap adopted pure physical way kill flies.
USAGE SCENARIOS
High-Efficiency and Safety, Simply press the button and swing, once the Fly, Wasp, or Bug touches the screen it will be instantly Zapped. The racket bug zapper comes with a revolutionary three-layer mesh that is always safe to touch. An ON light indicates when the racket is activated and ready to kill bugs, flies, and mosquitoes.
SPECIFICATION :
| | |
| --- | --- |
| MATERIALS | |
| PRODUCT SIZE | USB Electric Shock Mosquito Lamp: 220MM × 540MM × 540MM |
| PACKAGE CONTENTS | USB Electric Shock Mosquito Lamp × 1 |
Included :
Electric Mosquito Swatter

USB Cable

User Manual