---
The SKINMOZ IPL Hair Removal Handset, leaders in aesthetic IPL technology, is designed to deliver long-lasting results in just 3-4 weeks. Once per week and only 20 minutes per session, you can finally say goodbye to unwanted hair! As an added bonus, you will also notice the treated area is smoother, brighter, more youthful looking and with a more even tone.
Elegent. Unique. Effective. Durable.
Works on any body part including the face and Brazilian area. SKINMOZ™ adapts clinical-grade technology that is certified for quick and effective at-home hair removal. 
According to our recent feedbacks, around 97% of our customers have seen a significant decrease of hair growth within 2 weeks of usage, and 95% of our customers have eliminated all redundant hair after 6 weeks of usage. Our patented IPL + ICEW™ technology will prevent the hair from growing permanently. Find out your expected results by sliding your finger below!
The SKINMOZ IPL Hair Removal Handset is perfect for anyone looking for hair removal at home. Using our patented IPL +ICEW™ technology, you will not feel any pain while using our device and our IPL bulb is powerful enough to destroy the unwanted hair follicles. 
The light energy from IPL is absorbed by the melanin in the hair, which then turns into heat and destroys the hair cells, which will cause hair follicles to get thinner and lighter after each treatment. You will see visible results in just 2-3 weeks, and we expect full result in around 12 weeks.

The SKINMOZ IPL device comes with two modes tailored for your need. The stamp mode is for precise areas such as your underarms and biniki area, and the glide mode is suitable for your legs and arms.
The biggest advantage of IPL technology is that it does NOT incur any pain. The feeling can be described as a warm sensation to your skin. Because of the color heat absorption theory, it is possible for darker skin to feel more sensation. However, because of our patented IPL + ICEW™ level selection mechanism, you can always switch to the level you are most comfortable with.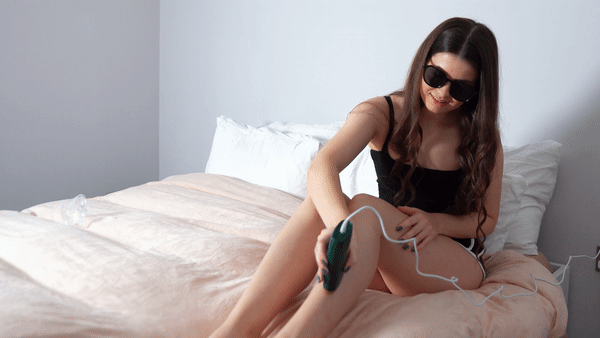 IPL hair removal technology has been proven to be safe and effective by numerous clinical studies. According to America Skin Institute, "IPL is one of our most effective treatments for skin discoloration, reducing brown pigmentation, sun spots, rosacea and unwanted hair." As a result, it has become an extremely popular option for safe and effective hair removal at home.