---
Make Your Stay-at-Home Holiday Celebration Fun!
With this Christmas & Halloween Laser Projector, you can step up any room with adorable decorations. Twelve (12) different slide patterns that would complete celebrations with your family. You can also have little show kids would definitely love!

 
Let your family be excited for Halloween!
Scream in fear with the spooky nights Halloween Projector. You will amaze friends. family and neighbors with these scary scenes.
The easy and perfect solution to decorate your home on this Halloween 2022!
12 different slide pattern projector: Including 1 indoor window projector with 12 built-in animations and videos. It is also equipped with an indoor projection screen, which can be used in any way to fit most windows. Designed for various occasions, holidays and birthday parties, with 12 different slides.
Using a projector. you can project horrible scenes on any surface indoors and outdoors. Can make these scenes look realistic and creepy.


 Lifelike : Bring horror into Halloween and make it a reality. The holographic projection has very realistic audio. which can be synchronized with the animation. bringing a more terrifying experience.
SKINMOZ HALLOWEEN PROJECTOR decorations are perfect for Halloween decorating or Halloween parties.
There are many Movies to choose from including zombie invasion scenes. ghosts. phantasms. scenes that make your pumpkins come to life. and many more.
Brings terror to Halloween and makes it real. The ghouls and ghosts that it creates are so real that you will swear you are really being haunted. These incredible Halloween holographic are going to scare trick or treat as well as your neighbors for years to come.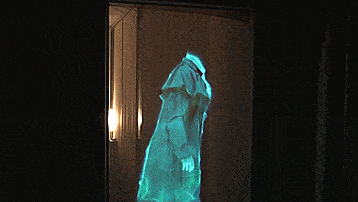 Projector screen : 
Convenient to store and carry
Anti-crease and high absorbance material
Format and size:16:9 screen format. diagonal 120' offer 104' x 58' viewing area
Package Includes :
1 x SKINMOZ Brand Halloween & Christmas Holographic Projector
1 x Tripod
1 x Projection Screen
1 x Charger US Plug type
1 x Package Color Box
12 videos (6 Halloween & 6 Christmas) 
Shipping & Returns :
Delivery time 5 to 8 days.
We offer free 30 days returns.
Great decoration for holidays!
This projector is great! It's easy to put together and the images are really cute and can be seen from far away. I love that it comes with multiple reels for different holidays. I can't wait to use this multiple times during the year!
Just got mine
Nice projector light. Good brightness projector onto our garage/house. I like that it came with different holidays and themes so it can be used whenever.