---
 PACKAGE INCLUDE 4 PIECES

 WE SHIP FROM UNITED STATES WITHIN 3 - 5 Business Days
16 COLOR UNDERWATER LIGHT LED RGB SUBMERSIBLE SWIMMING POOL LAMP IP68 WATERPROOF WITH RF REMOTE
The New Game Pool Wall Light 2021 , Battery Operated Underwater Pool  .
[ Newest Submersible Lights with Magnets and Suction Cups ] : IP68 waterproof submersible lights with strong magnets and suction cups, these lights will stay firmly in place it designed for the

 pool wall .




[ MAX 200FT/61M RF Remote Range ] : Our underwater lights come with a RF remote with a long remote range (200ft/61m) that can even penetrate up 16ft/5m of water, this remote won't lose signal.




[ 13 LED, 20 Hours Long, Display, More Bright, More Durable ] : Our waterproof lights have 13 premium LEDs, it's 3 times more bright and vivid than other submersible lights which only have 10 LEDs, these lights will brighten your space.




[ 16 Colors, Multi Options, Dimmable Pool Light Underwater ] : The GAME Waterproof Magnetic LED Color-Changing pool wall light is a powerful and colorful 16 LED lights for pools , Optimized 16 dynamic colors, multiple modes (flash, fade, smooth), increased 4 timer buttons (2h, 4h, 6h, 24h), lighting for any occasion.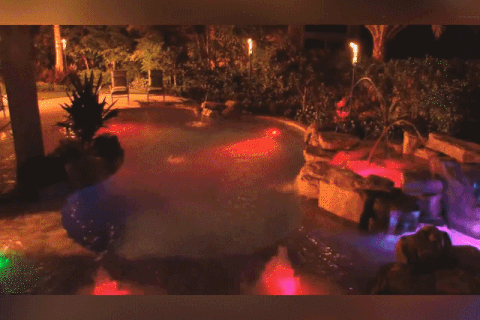 TURN YOUR POOL INTO THE ABSOLUTE PARADISE IN JUST MINUTES
With the Underwater Pool Lights, you can illuminate your pool with 16 colors for different occasions. Purple, red, and green are amazing for parties of your dreams whereas blue and white are excellent for relaxing nights.
BEST DECORATION LED LIGHT FOR YOUR HOME
It is also excellent for home decoration so you can place it anywhere you like.
It is so easy to use, and it contains a remote control that will allow you to change the color of all lights at the same time and change light intensity from the same remote.
16 RGB Color-Changing Available : increase to 16 fancy static colors to choose from the remote controller, they are fully dimmable, which means you can program the brightness level of the light to whatever level you require, so that you could program and vary all of the settings from afar.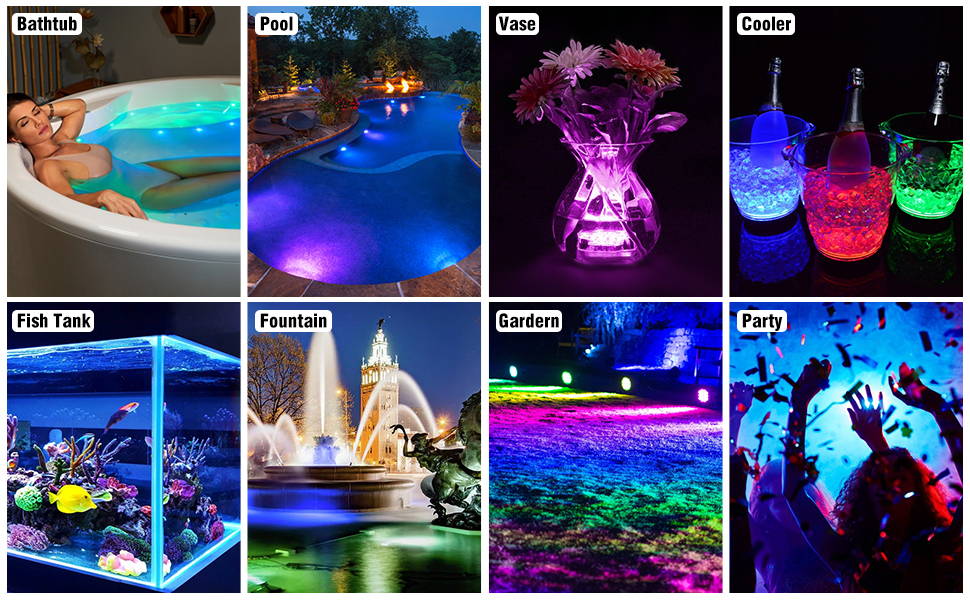 Good to know before using our led pool lights :
For Waterproof 
Please make sure the sealing ring is undamaged, and properly stay in the groove.

Please twist the light until it can not be twisted any further, to make it fully waterproof before putting underwater.( Very Important!!! otherwise it will leak)

Please dry the lights first before replacing batteries. Because the water outside lights may drop into lights and keep inside the battery case, it will damage the components, and defeat the lights.( Very Important!!!)

Please keep the remote dry from water, because it's not waterproof, water will make it stop working.
For Battery
Please don't use bad quality battery, it will influence the brightness of the light and the working life, and it will harm for the light bulb too.

For long time use, we recommend to use rechargeable battery to save batteries and money, recommend brand

 

"Energizer" or "Eneloop",don't use the brand "Tenergy".

Because some rechargeable batteries are a little bit big to insert into the battery case, so it doesn't connect properly, the light will not light up. If the lights don't light up once you insert all 3 batteries, please move the battery to make them connect properly.

We don't suggest using carbon core battery, because it's lightweight, and will make the lights floating.
For Remote Control
Please keep the remote dry from water, because it's not waterproof.

Please long press the button "ON" on the remote for about 2 second to activate all the lights. After turning on, no need to long press, the light will be very sensitive to react what you set.( very Important!!!)

For underwater using, please keep the remote within 10FT/3M-16.4FT/5M, because water will largely absorb signal, and weaken the signal to the lights.

In air, the remote range can reach 164FT/50M and more.

We have already improve the signal system, it has further remote range and better reaction which can work for 16.4FT/5M and more underwater.

·
For Suction Cups (2nd generation)
Can be used in both air and underwater on flat and smooth surfaces.(not rough surface)

Please clean the surface before attaching, make sure there is not any stuff between the surface and suction cup, especially remember to remove the lubricant like shower cream, moss etc. ( very Important!!!)

We already enlarged the suction cup to larger size and tighter adsorptivity, it's competent to hold lights under 10-16.4ft/3-5m underwater.
For Magnets
It's perfect for any iron place which can be attracted by magnet, especially rough vertical surface, but not for smooth vertical surface, please use suction cup instead.

The magnet is strong, but it's better to apply on pure iron surface, alloy may reduce the absorb effect.
In a word, use in correct way is very important, hope you will not miss a good product and seller.
If you have any questions, please don't hesitate to reach out, we are always here providing prompt response and solutions to you within 19 hours.
Our Guarantee :
We truly believe our products have made everlasting impacts all over the world and we fully stand by our products. Because you are the reason why we're here today, we want to give you a risk- free 30-day guarantee for all of your purchases. If you don't have a positive experience for any reason, we will do whatever it takes to make sure you are 100% satisfied with your purchase. We have 24 / 7 Ticket and Email Support.
Please contact us if you need any sort of help or a friend to talk to